Back Pain Treatment at Hinze Chiropractic and Acupuncture
If you've been experiencing back pain with no relief in sight, you already know how debilitating it can be, interfering with your tasks at work, school, and home. The discomfort can get worse when your back pain is left untreated, and can result in further injury to your lower, middle or upper back.
Fortunately, treatment is available to you now from Dr. Randy Hinze, who leads our team and has been providing chiropractic care for the people of Columbus, Nebraska for more than 30 years now. The secret to his success is his expertise and knowledge coupled with an excellent bedside manner and a genuine interest in improving people's lives through the healing arts.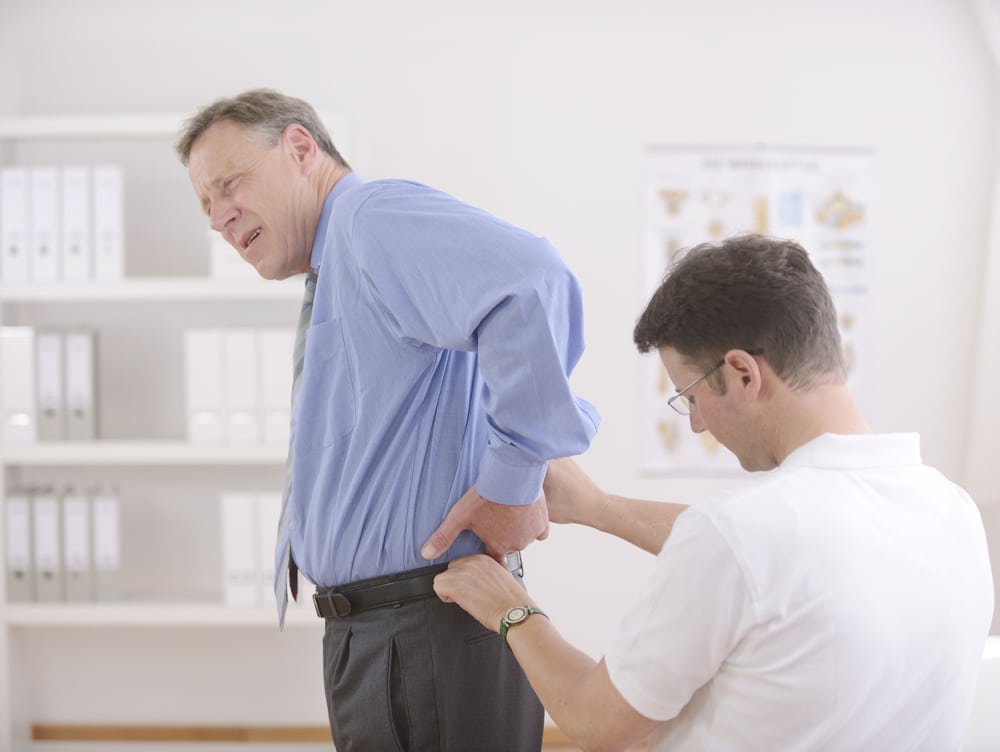 Different Types of Back Pain
We are experienced in treating all forms of back pain. Our chiropractor is known for helping Columbus residents achieve better back health and reduced pain, providing treatment for:
Upper Back Pain
Middle Back Pain
Lower Back Pain
Causes of Back Pain
If you have only recently begun to experience back pain, you might not be certain about what has caused this condition.
Dr. Hinze will sit down with you during your first meeting, to talk about your medical history and to determine the possible causes that led to your back pain. This is important before devising a specialized treatment plan to address your aching back.
Common causes of back pain include:
Poor posture/form (such as from sitting in a badly designed chair at work all day)
Career (for example, your job title requires you to routinely stand all day, lifting and moving heavy items)
Active lifestyle (whether you are a weekend warrior or a more casual athlete, back pain can be par for the course)
Bulging disc (a bulging disc in your spine can press on nerves, leading to pain)
Muscle strain (this can occur for a variety of reasons, such as moving suddenly in the wrong direction or trying an unfamiliar activity)
Treating Back Pain With Chiropractic Care
For patients who prefer to explore a treatment plan that does not involve the use of surgery or prescription drugs, chiropractic care is a suitable option to consider. Your chiropractor in Columbus NE has a number of techniques and treatment methods to address your back pain.
Which method to be used will depend on what the chiropractor learns during the examination. Dr. Hinze can treat your back pain with manual manipulation, which is designed to improve your mobility and range of motion while reducing pain, discomfort or any stiffness.
At Hinze Chiropractic and Acupuncture, we offer acupuncture services using the Teishin needle technique. Acupuncture has a long and rich history, coming from ancient traditions of China, and is done to stimulate various points on your body in an effort to correct your life force, which is also referred to as "qi." Thin acupuncture needles are inserted into the skin at different points to bring relief of back pain. (During needle insertion, patients can expect little or no discomfort, in case you were concerned.)
Massage therapy is another therapeutic option that the chiropractor might recommend for helping with your back pain. A skilled massage therapist will relieve the powerful muscle spasms that can lead to back pain. What's more, the massage technique helps to boost blood flow in your back, which in turn leads to faster healing as oxygen and vital nutrients are delivered to the affected, painful muscles.
Make an Appointment Today With Your Preferred Chiropractor in Columbus NE
If you have any questions about our methods for treating back pain or you would like to set an appointment for consultation and treatment from your chiropractor in Columbus NE, please connect with Hinze Chiropractic and Acupuncture today. Call (402) 564-9447. We're looking forward to hearing from you!
Lower Back Pain Treatment from a Chiropractor in Columbus
If you have lower back pain, you may have issues getting out of bed, concentrating on work, engaging in physical activities, and relaxing, and sleeping. You may be so tired of the pain that you're ready to schedule surgery.
Before you take such drastic measures, go to a chiropractor in Columbus, NE first, and see what they can do for your pain.
What Are the Causes of Lower Back Pain?
There are many causes of lower back pain, including injuries and medical conditions. These are:
Autoimmune diseases
Spinal tumors
Infections, specifically osteomyelitis, which harms the spine
Compression fractures
Spinal trauma, including dislocations and acute fractures
Kyphosis, scoliosis, and other spinal deformities
Osteoarthritis
Spondylolisthesis
Spinal stenosis
Sacroiliac joint dysfunction
Facet joint dysfunction
Degenerative disc disease
What Symptoms Might You Have?
Symptoms may vary if you have a spinal injury or medical condition. You may have short-term or chronic pain. You may not be able to walk far without pain, and standing for long times is also uncomfortable. The longer you sit, the more pain you're in.
Your hip, pelvis, and lower back may feel tight and spasm occasionally. The pain you do feel almost burns or stings. It's on the lower back, but the pain sometimes spreads to the feet, legs, and thighs.
How a Chiropractor Diagnoses Lower Back Pain
When you set up an appointment with your chiropractor, they will review your medical records and discuss your symptoms with you. They will then run some tests to confirm what's causing your lower back pain.
Lower Back Pain Treatment Options from a Chiropractor
Once the chiropractor has confirmed what's causing your lower back pain, they can come up with an individualized treatment plan. Chiropractic techniques like manipulations and adjustments can realign the spine for less pain.
Besides these treatments, your chiropractor may administer physical therapy or acupuncture. When combined with chiropractic care, you should notice that you can walk and go about your day much more comfortably than before. Sitting or lying down won't cause so much discomfort, allowing you to sleep better. In short, your quality of life will improve.
Hinze Chiropractic Center, Your Back Pain Specialist in Columbus
If you have lower back pain and need treatment, come to Hinze Chiropractic Center. As your chiropractor in Columbus, NE, our services are auto accident injury treatment, acupuncture, chronic pain treatment, personal injury and workplace injury treatment, and chiropractic care.
Give us a call at (402) 564-9447 or visit us at Hinze Chiropractic Center at 2421 23rd Street.