Neck Pain Treatment from Your Chiropractor in Columbus, NE
At Hinze Chiropractic and Acupuncture, we help our patients achieve maximum pain relief through all-natural chiropractic care and acupuncture. Our chiropractor, Dr. Randy Hinze, knows that neck pain comes in many forms and has many causes, so we take every patient's case individually.
Is your pain constant, or does it come and go? Did it just start, or have you been living with neck pain for months? Your answers – and your Columbus chiropractor's thorough physical exam – will tell us more about how to treat your neck pain effectively.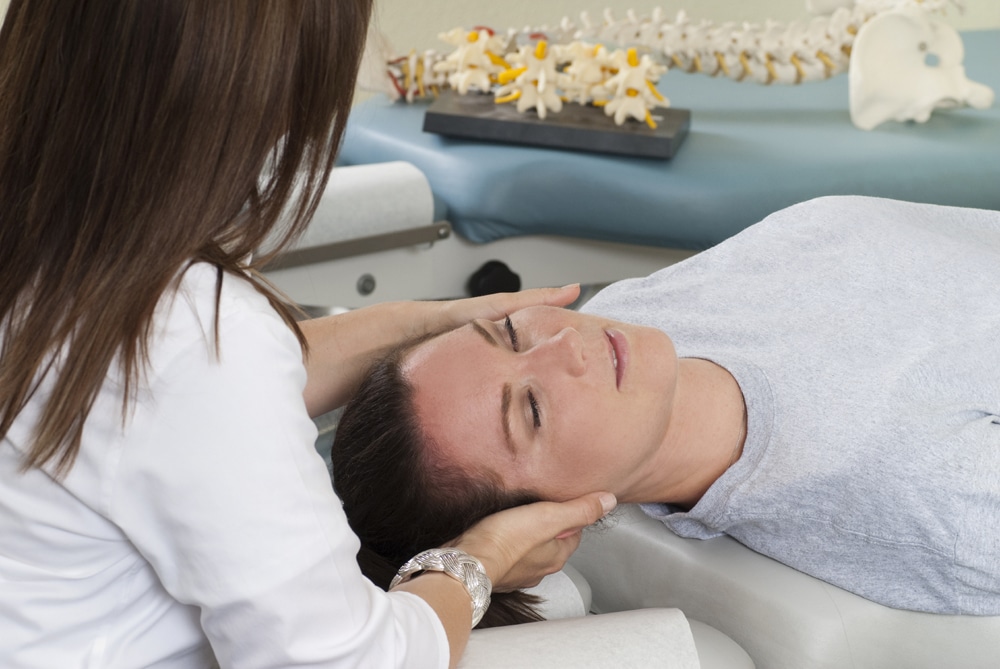 Common Types & Symptoms of Neck Pain
At Hinze Chiropractic and Acupuncture, we treat two main types of neck pain: acute and chronic. Acute pain appears suddenly because it's caused by a sudden injury such as an overnight neck strain or whiplash. Chronic pain, however, is a symptom of an ongoing problem or repetitive injury.
Here are some of the most common symptoms of neck pain:
Stiffness that makes it difficult to turn your head
Dull, constant ache in the neck
Sore, sensitive neck
Sharp, stabbing sensation in a certain part of the neck
Neck pain accompanied by arm pain
Neck pain that radiates into the shoulders or head
Tingling or numbness that reaches the arms or fingers
Common Causes of Neck Pain
Because our chiropractor is determined to provide long-term solutions, we tackle the source of neck pain instead of covering up the symptoms. Here are some of the most common causes of neck pain:
Poor Posture – If your spine isn't aligned properly as you sit, stand, or lift objects, your neck may not support your head's weight evenly, leading to small strains, tears, and minor soft tissue injuries over time
"Texting Neck" – If you stare down at a mobile device for hours every day, your neck may suffer repetitive strain that causes chronic pain
Whiplash – Sudden forward motion of the head and neck can cause varying amounts of trauma to the tissue, especially if your spine is held in place while your neck tissue overextends
Sleeping "Wrong" – If you've ever woken up with a "crick" in your neck that limits the range of motion, you may have sustained overnight strains from sleeping in an awkward position
Repetitive Motions – Dancing and swimming are common culprits for neck pain caused by overuse; if you shake or move your head from side to side too frequently, the ligaments and tendons may not have time to recover properly
Athletic Injuries – Of course, neck and back injuries can also cause acute neck pain, especially if you collide with the ground or someone else in position that impacts the nerves
Degenerative Diseases – Some progressive conditions cause damage to the nerves or tissues within the neck, or leave the vertebrae without proper lubrication
Our Chiropractic Treatments for Neck Pain in Columbus
No matter what caused your neck pain, our Columbus chiropractor will personalize your treatment plan to make sure we address the specific causes of your neck pain. Some of our most common chiropractic treatments for neck pain include:
Chiropractic Adjustments – Our chiropractor uses manual and instrument-assisted manipulations to gently push the vertebrae back into the proper position, enabling better posture and relieving inflammation, pressure, and pain caused by misalignment
Heat/Ice Therapy – If inflammation is preventing your neck tissue from healing properly, we may recommend alternating courses of heat and ice to reduce swelling before we can adjust
Lifestyle Adjustments – We often recommend exercises and positions that help our patients improve their posture and support their neck better
Make an Appointment with Our Chiropractor in Columbus, NE
Are you ready to seek chiropractic care for your neck pain? Call (402) 564-9447 to make an appointment with our chiropractor in Columbus, NE.